When you need more than a company...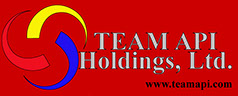 ...Count on
TEAM API
!
A TEAM for action

More than just an umbrella holding company, Team API is a strategic combination of designers, engineers, marketing, finance and product experts. Our experience will quickly move your product from idea to "finished" quickly and easily. Let us take the hassle out of your projects.
From humble beginnings working with inventors and small startups, President and CEO of TEAM API Michael Stevens has over 30 years of product development experience. After identifying an obvious lack of support for entrepreneurs and inventors within the United States, Michael has endeavored to put his experience to work bringing all types of project to life from the simple to the multi-faceted government engineering jobs.
Strategically located

With manufacturing located throughout the United States and Taiwan, Team API has the resources to efficiently build and deliver to any location. Headquartered in Alabama, access to International Air delivery from Memphis, Nashville, and Huntsville is quickly accessible and cargo shipping via the Tennessee river is only minutes away.
Complete Product Development

Team API brings more than just a supplier, we bring together a team of experts who specialize in all aspects of design, manufacturing, marketing, financing and product development. When the success of your project hangs in the balance, count on the resources of a proven team of product development end engineering experts... count on the resources of Team API!
New Server
Team API Holdings, Ltd. · 25 LeAnn Street, Rogersville AL. 35652
Voice: (256)247-7339 · Fax: (256)247-7340
© Copyright 2001-2015 Team API Holdings, Ltd. HG1013v22